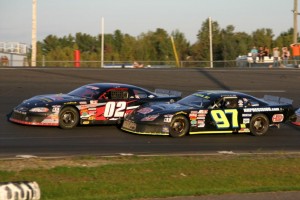 Waterbury, VT – Veteran American Canadian Tour (ACT) stock car racer Randy Potter of Groveton, NH filed the first full season entry for the 10-event 2012 ACT Tour. Potter and his Lancaster Auto Sales/Speedway Sports Park Chevrolet team were recently honored at the ACT Banquet of Champions for their 5th place finish in the 2011 standings.
"Our chances at the 2012 title right now are as good as anyone's, but in order to pull it out of the clutches of RPM and Brian Hoar we are going to need luck, no mechanical or mental break downs and some really good finishes in all of the 10 races," said Potter.

During the 2011 season, Potter had one of the most consistent years of his career. He finished with four podium finishes, including three straight at White Mountain Motorsports Park, Twin State Speedway and Beech Ridge Motor Speedway. He capped off the year with a second at Airborne Speedway in the season finale.
Potter is looking forward to the 10-event 2012 season and ACT's return to Sanair Super Speedway in St-Pie, Quebec. "Ten races will probably get more cars to run the whole tour schedule, which is good for the car counts and the competition, but it will make it tougher to qualify too," said Potter. "I've always wanted to go to Sanair. Something always happens to keep us from making the trip so I hate to jinx anything, but I'm really looking forward to it."
Potter, a former Riverside Speedway (Groveton, NH) Late Model Champion, raced off and on with ACT beginning in 1993. He returned to the Tour full-time in 2007 and immediately established himself as a championship contender with his first career ACT win in the season opener at Oxford Plains Speedway. Since 2007, Potter has finished in the top ten in the final standings each season, including three times in the top five. He is also the only driver to qualify for all 63 ACT feature events since 2007.
The 2012 will kick off with the traditional NH Governor's Cup 150 at Lee USA Speedway in Lee, NH on Sunday, April 15.