Lonnie Sommerville: PASS North Series
Beech Ridge Motor Speedway Race Report
Lonnie Sommerville of Saint John, New Brunswick, started the 2012 PASS North Series season off on the right foot by finishing second in the SouthernMaineMotors.com 150 at Beech Ridge Motor Speedway in Scarborough, Maine, on Saturday, May 5. The result marked Sommerville's fourth straight Top-5 finish at Beech Ridge in the Mulkern Racing No. 48 A.E. McKay Builders Chevrolet dating back to this event last season. Sommerville led on two different occasions early in the race after starting fourth in the 32-car field, but a long green-flag run to the checkered flag kept him just short of the top spot at the finish line.
Related Story – Doiron Collects 1st Career PASS North Series Victory at Beech Ridge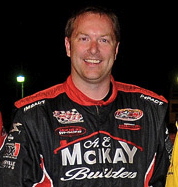 WHO: Lonnie Sommerville, Saint John, New Brunswick
TEAM: Mulkern Racing No. 48 A.E. McKay Builders Chevrolet
WHAT: PASS North Series SouthernMaineMotors.com 150
WHERE: Beech Ridge Motor Speedway, Scarborough, Maine (.375-mile oval)
STARTED: 4th
FINISHED: 2nd
CURRENT POINTS POSITION: 2nd
***
LONNIE, HOW WOULD YOU SUM UP YOUR DAY?
"It's definitely a solid run. Obviously not the car we wanted, but (winner Joey Doiron) just had an awesome race car. Watching him go was pretty much how I felt last year when we rolled into Beech Ridge."
WHERE DID THE CAR NEED TO BE BETTER?
"It was way too tight. We just missed it.
"We changed it after the heat race. We freed it up a little bit more, but we just should have went more. We second-guessed ourselves. We were so good in the heat race, we didn't want to go too much. We definitely didn't go too much. We didn't go enough. Most of the race, I just tried to save my stuff."
STILL, IT'S A GOOD START TO YOUR CHAMPIONSHIP HOPES.
"It is what it is. We're chasing a big picture, and second-place to start the season off is a good run for the big picture. It's a good night for Southern Maine Motors and everyone at Mulkern Racing for their home track and the sponsor of the race.
"It's a good night for all of us."
Visit NERacingForum.Com for latest New England Racing community News and updates.
[adrotate block="3″]