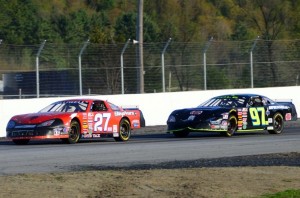 Eager Competitors Head to White Mountain Motorsports Park
The most competitive battle in the Northeast continues with the American Canadian Tour stock cars this coming Saturday, June 23 at White Mountain Motorsports Park in North Woodstock, NH. Dover, NH's Wayne Helliwell, Jr. leads the field by a 2-point margin in search of his first ACT Championship at a track where he finished a stout third in 2011, but his title hopes are under attack from ACT's biggest stars.

Hudson, NH's Joey Polewarczyk, Jr., who rides second on the Tour, is focused on the point lead, but with only a nine point cushion over third place point man Brian Hoar he cannot afford even the slightest mistake. After a disappointing finish last time out, eight-time and defending ACT champion Hoar looks to bounce back at White Mountain Motorsports Park where he claimed victory in 2010.
Lancaster, NH's Quinny Welch will expect some better luck at "The Park", where he is a multi-time and defending champion of the weekly Late Model series. Welch has been disappointed by mechanical failures for much of 2012 on the American Canadian Tour, but has put the pressure on himself to perform at the track he calls home.
"We've really been building up to this race at White Mountain," explained Welch. "I've been racing there the last three weekends to try to get tuned for this race, and I just know I won't be satisfied with anything less than a win here."
Young sensation Austin Theriault will focus on extending a hot start to 2012 and a sixth place finish in this event last year to take a shot at the point lead himself. Fifth place veteran Randy Potter will look to improve on his runner-up finish in 2011 to jump into the top group of championship contenders.
All the action begins this Saturday, June 23rd at White Mountain Motorsports Park in North Woodstock, NH. Post time is 5:00pm.
Visit NERacingForum.Com for latest New England Racing community News and updates.
Get the latest New England Racing News in your in box, Join our Newsletter today
[adrotate block="3″]