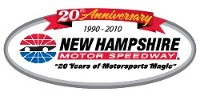 LOUDON, N.H. (June 13, 2012) – Ryan Newman knows his way around "The Magic Mile." His track-record six poles and three victories in the NASCAR Sprint Cup Series are a clear indication of that. But yesterday "The Rocket Man" traded his 850-horsepower Chevy Impala for a 1955 Chevrolet 210, taking military, media and fans for a spin around New Hampshire Motor Speedway's 1.6-mile road course.
Newman, who won last July's Cup race in New Hampshire, returned to Loudon to not only share his thoughts on a possible repeat performance in the LENOX Industrial Tools 301 on July 15, but to take part in some of his off-track passions, including his passion for animals, restoring classic cars and fishing.

"It's really cool to be here and take part in such a great day," said Newman, who picked up his first-career Cup win at NHMS in 2002. "This was a great turnout. To see so many classic vehicles and get a chance to go for a ride in one, this was just awesome. I like this track and I look forward to our team coming back here and getting a chance to get back into victory lane next month."
Newman began his day with a video montage that highlighted his three Cup victories and three NASCAR Whelen Modified Tour wins at NHMS. He then took part in a special presentation for the New Hampshire Humane Society based out of Laconia, N.H. Newman and Jerry Gappens, executive vice president and general manager of NHMS, presented a $1,000 check to the New Hampshire Humane Society on behalf of the Ryan Newman Foundation and the speedway.
Development Director Marylee Gorham-Waterman and volunteer dog walker Meredith Cashman were on hand as representatives with rescue/alumni Boxers, Mason and Bonnie, to receive the donation.
"We are very fortunate to be a part of this special event today," said Gorham-Waterman. "It's an honor to be here, to meet Ryan and receive such a generous donation."
Newman then turned his attention to the 1936 Duesenberg SJN and 1934 Packard – owned and provided by former speedway owner Bob Bahre – that were parked in the center garage. Newman sat in the Duesenberg and chatted with Bahre, then chatted with classic car owners who were on hand from the Car Nutz and Twin State Cruisers car clubs. A parade lap ensued, with Newman setting the pace in Chevy 210 and over 25 vintage vehicles in tow.
"It's impressive. I have to thank Bob Bahre for bringing two of his very, very expensive old cars down here," said Newman. "You usually don't see cars like that without stanchions put up around it. The Duesenberg kind of hits home for me because I'm from South Bend, Indiana, and it wasn't built too far from there."
Newman finished his afternoon with a question and answer session with Greg Kretchmar, host of the morning talk show "Greg and the Morning Buzz." Newman fielded questions from Kretchmar, as well as fans and car club members before heading up to Crystal Lake in Gilmanton, N.H., with Charlie Moore to film an episode of "Charlie Moore: No Offense," which will air on NBC Sports Network just after the new year.
For more details and ticket information on events at New Hampshire Motor Speedway or to purchase tickets to the LENOX Industrial Tools 301 and SYLVANIA 300 NASCAR weekends, please stop by our Ticket Office, visit the speedway website at www.nhms.com, or call our Ticket Hotline at (603) 783-4931.