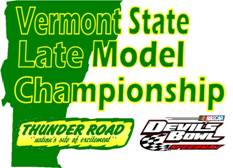 Barre, VT – Round two of the 2012 Vermont State Late Model Championship Series moves to Devil's Bowl Speedway in West Haven, VT for this Friday night's "I Am Vermont Strong" 100. Barre, VT sensation Nick Sweet leads the standings in the four race series after a convincing round one victory over Lt. Governor Phil Scott held at Barre's Thunder Road. Just seven points separate the two former track champions.
Two points behind Scott rides Milton's Brent Dragon, the only series driver that has captured a Devil's Bowl Speedway victory in 2012. With only a two-point difference between each finishing position, and a five-point bonus for winning, the Vermont State Championship is up for grabs for more than just the top three.

Also in the top five are young stars Brooks Clark and Jimmy Hebert. Clark, who clawed his way from 14th in the first event to finish fourth, will look to back up a tenacious start to 2012. Hebert of Williamstown rolls fifth while former Oxford Plains Speedway Champion, Ricky Rolfe maintains sixth. Chip Grenier, 2011 "King of the Road" Dave Pembroke, Multi-time Thunder Road champion Cris Michaud, and Trampas Demers round out the top ten for the Vermont State Championship title.
The campaign continues at the "I Am Vermont Strong" 100 at Devil's Bowl Speedway on Friday, June 8. Post time 7:00 pm.
The third event of the four race series will return to the high banks of Thunder Road for the VT Lottery Commission Governor's Cup 150 on Thursday, July 12. The series finale will be at Devil's Bowl Speedway on Sunday, September 16 for the Devil's Bowl 100.
For more information head to www.thunderroadspeedbowl.com or email us at media@acttour.com or call the Thunder Road office at (802) 244-6378.