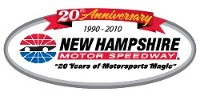 Gappens, Polewarczyk Race Youths at Route 106 RacePark
LOUDON, N.H. (July 9, 2012) – Jerry Gappens can't wait to get the big boys to "The Magic Mile." But before NASCAR officially rolls into town later this week, New Hampshire Motor Speedway's executive vice president and general manager tested his driving skills against future NASCAR pilots at Route 106 RacePark in Pembroke, N.H., as Governor John Lynch helped drop the green flag on race week in the Granite State.
With Gov. Lynch serving as the flag official, Gappens, American-Canadian Tour driver Joey "Pole" Polewarczyk of Hudson, N.H. and four local go-kart drivers raced for 10 laps, with Gappens using his self-imposed "Gapper-Jump" to take down the field and win the "Mini LENOX Industrial Tools 301."

"It was kind of like the Joker Lap you'll see from the Global RallyCross Championship this weekend," joked Gappens. "In all seriousness, it was fun. Go-kart racing is kind of like the Little League feeder system for our sport and seeing these kids enjoying something they can do with their family is great to see. And who knows, maybe one of these kids today will be up at the 'The Magic Mile' doing it at the Sprint Cup level."
The official race winner was 12-year-old Max Dolliver of Londonderry, N.H. Dolliver passed Gappens on Lap 4 and cruised to victory lane, where he posed with the official LENOX Industrial Tools 301 trophy that will be given to Sunday's race winner at NHMS.
"This was a lot of fun," said Dolliver, who started racing three years ago. "I'd like to someday move up the ranks and go to NASCAR."
Prior to the race, Gappens received advice from Polewarczyk, who also shared his insights with the young go-kart drivers on hand. Polewarczyk, now 23, started racing at the age of 7 – similar to NASCAR drivers Tony Stewart, Kevin Harvick and Danica Patrick – and is now a regular on the ACT Tour, which will race at NHMS in September.
"Go-karts are where I learned all my driving, so to see all these kids out here today it definitely brings back memories of when I was doing this," said Polewarczyk. "It's really cool to come out here and promote the big race this weekend and see all these great fans, it was a cool day."
Route 106 RacePark has hosted go-kart racing since the mid-90s and has 11 different divisions of racing at the track, from ages 5 and older.
"This was a great opportunity for the kids, you could see how excited they were to race Jerry and Joey," said Dusette, the park's operations manager. "Being so close to New Hampshire Motor Speedway is definitely a plus for us. It gives these guys something to shoot for down the road."
For more details and ticket information on events at New Hampshire Motor Speedway or to purchase tickets to the LENOX Industrial Tools 301 and SYLVANIA 300 NASCAR weekends, please stop by our Ticket Office, visit the speedway website at www.nhms.com, or call our Ticket Hotline at (603) 783-4931.