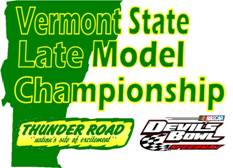 Badore, Whitcomb Bounce Back for Feature Victories
Barre, VT – Barre's hometown hero Nick Sweet continued a dominating 2012 with a dazzling victory in the Vermont Governor's Cup 150 presented by the VT Lottery Commission at Thunder Road on Thursday (July 12). Sweet was hounded by defending Champion Dave Pembroke, and perennial front runner Scott Payea picked up third place. Young sensation Cody Blake crossed the line fourth, with 2011 Governor's Cup winner John Donahue rounding out the top five.

American Canadian Tour front-runner Joey Polewarczyk Jr., snatched the early lead from the second starting position, but it only took 6 laps for Sweet to pull to the front from fourth. Sweet dominated the next 46 circuits, looking well on his way to victory, when he stunned the large hometown crowd and pitted on a lap 53 caution, taking the top five with him and leaving East Montpelier's Cris Michaud at the point. Michaud spent the next 46 laps in a duel with South Burlington's Trampas Demers, but it was all for not when the familiar #88 of Sweet returned to reclaim the lead on lap 100 of the 150 lap event, and went on to power through a late race surge from Pembroke to take the Governor's Cup by just .365 seconds. Top Vermont State Championship Series runners Brent Dragon, Phil Scott, and Ricky Rolfe struggled to 16th, 22nd, and 21st place finishes respectively.
"Man, I was just happy to see it over here at the end," said a breathless Sweet. "Our strategy really worked well, it's a great night for us," he finished.
Polewarczyk recovered to take home sixth, and Eric Chase, Cris Michaud, Chip Grenier, and defending ACT Champion Brian Hoar rounded out the top ten. The race was slowed by just five cautions, one of which was for a mid-race spin on the backstretch for Hoar. The 30 car field completed the race just in 58 minutes and 55 seconds.
Sweet had already been invited to the ACT Bond Auto Invitational on Saturday, September 22 at New Hampshire International Speedway with his Memorial Day Classic win.
Milton's Eric Badore paved the way to victory in the Bond Auto Tiger Sportsmen, diving underneath Barre's Scott Coburn on lap 18 to charge to the checkers. High-point driver Jason Allen sliced and diced the 23-car field to continue his hot streak and unofficially reclaim the point lead with his third place finish. Wolcott's Brendan Moodie Jr. took home fourth, and Hinesburg's Bobby Therrien powered his way to round out the top five.
Badore was relieved to be back in victory lane. "We've just had so much bad luck this season. The broken transmission, the wrecks, and finally we just had an awesome ride tonight," said Badore.
Redemption finally came to Elmore, VT's Dave Whitcomb, who avenged a tough 2012 season with a dominating victory in the Allen Lumber Street Stock Division. Whitcomb expertly sliced through heavy lap traffic, fighting off a hard charge from Morrisville's Jamie Davis and top ranked rookie Dean Switser Jr., in the closing laps. Last week's victor Emily Packard came home fourth and Justin Town rounded out the top five.
"It's just been such a tough year for us, "said Whitcomb smiling. "But this just feels so good. It just makes it all worthwhile," he finished.
The stars and cars of Thunder Road are back in action for Mid-Season Championship Double Points night next Thursday, July 19 presented by The Times Argus. Post time is 6:30.
Vermont Lottery Commission Governor's Cup 150 Unofficial Results
Thunder Road –Barre, VT
Thursday, July 12, 2012
Vermont State Late Model Championship Event #3
Pos. (Start) Driver, Hometown, Laps Completed
1. (4) Nick Sweet, Barre, VT 150 Laps
2. (8) Dave Pembroke, Middlesex, VT 150 Laps
3. (9) Scott Payea, Milton, VT 150 Laps
4. (6) Cody Blake, Barre, VT 150 Laps
5. (29) John Donahue, Graniteville, VT 150 Laps
6. (2) Joey Polewarczyk Jr., Hudson, NH 150 Laps
7. (5) Eric Chase, Milton, VT 150 Laps
8. (14) Cris Michaud, E. Montpelier, VT 150 Laps
9. (20) Chip Grenier, Graniteville, VT 150 Laps
10. (23) Brian Hoar, Williston, VT 150 Laps
11. (17) Eric Williams, Hyde Park, VT 150 Laps
12. (22) Jay Laquerre, Barre, VT 150 Laps
13. (16) Jamie Fisher, Shelburne, VT 150 Laps
14. (12) #Jimmy Hebert, Williamstown, VT 150 Laps
15. (7) Trampas Demers, South Burlington, VT 150 Laps
16. (11) Brent Dragon, Milton, VT 149 Laps
17. (10) Joey Becker, Jeffersonville, VT 149 Laps
18. (26) Jamie Aube, No. Ferrisburg, VT 149 Laps
19. (24) Brooks Clark, Fayston, VT 149 Laps
20. (1) Jerry Lesage, Winooski, VT 149 Laps
21. (28) Phil Scott, Berlin, VT 149 Laps
22. (18) Ricky Rolfe, Albany Twp, ME 149 Laps
23. (15) Mike Bailey, South Barre, VT 148 Laps
24. (13) Matt White, Northfield, VT 148 Laps
25. (21) Dave Whitcomb, Essex Jct., VT 148 Laps
26. (30) Brett Wheeler, Waterbury, VT 148 Laps
27. (19) Derek Ming, Island Pond, VT 148 Laps
28. (27) Jim Morris, Barre, VT 130 Laps
29. (25) Derrick O'Donnell, North Haverhill, NH 31 Laps
30. (3) Lance Allen, Barre, VT 6 Laps
Lap Leaders: Joey Polewarczyk, Jr., 1-6; Nick Sweet, 7-53; Cris Michaud, 54-60; Trampas Demers, 61-63; Michaud, 64-99; Sweet, 100-150
Time of Race: 58:55
Margin of Victory: .365 seconds
Cautions: 5 (Lap 6, 15, 58, 63, 81)
Bond Auto Tiger Sportsmen – Unofficial Results
Pos. Driver (Car #) Hometown
1. Eric Badore (04) Milton, VT
2. Scott Coburn (1) Barre, VT
3. Jason Allen (29) Barre, VT
4. Brendan Moodie (94) Wolcott, VT
5. Bobby Therrien (4) Hinesburg, VT
6. Dylan Payea (07) Henniker, NH
7. David Finck (90) Barre, VT
8. Mike Ziter (26) Williamstown, VT
9. Josh Demers (10) Middlesex, VT
10. Mike Martin (01) Craftsbury Comm., VT
11. Jason Corliss (61) Barre, VT
12. Joe Steffen (00) Grand Isle, VT
13. Shawn Fleury (31) Middlesex, VT
14. John Lambert (2) Northfield, VT
15. Randy Gonyaw (22) S. Barre, VT
16. #Jason Woodard (68) Waterbury Ctr., VT
17. #Chris Roberts (9) Washington, VT
18. Kyle Pembroke (27) Montpelier, VT
19. Christopher Pelkey (64) S. Barre, VT
20. Joel Hodgdon (36) Craftsbury, VT
21. Darrell Morin (71) Essex Jct., VT
22. Shawn Powell (40) Jericho, VT
23. Mike Pelkey (85) S. Barre, VT
Allen Lumber Street Stocks – Unofficial Results
Pos. Driver (Car #) Hometown
1. Dave Whitcomb (77) Elmore, VT
2. Jamie Davis (43) Wolcott, VT
3. #Dean Switser Jr. (16) Lyndonville, VT
4. Emily Packard (98) E. Montpelier, VT
5. #Justin Town (53) E. Barre, VT
6. #Kevin Wheatley (33) Brookfield, VT
7. Nick Pilotte (11) Jefferson, NH
8. Bunker Hodgdon (83) Hardwick, VT
9. Bob Eldred (31) Waterbury, VT
10. William Hennequin (47) Morrisville, VT
11. Donny Yates (5) N. Montpelier, VT
12. #Greg Adams Jr. (42) Hardwick, VT
13. Cameron Ouellette (90) Barre, VT
14. Garry Bashaw (92) Lincoln, VT
15. #Daniel Brassard (32) E. Randolph, VT
16. Gary Mullen (29) Tunbridge, VT
17. Tommy Smith (50) Williamstown, VT
18. #Kevin Dodge (8) Barre, VT
19. Ron Gabaree (9) Barre, VT
20. Michael Gay (3) So. Burlington, VT
21. Marvin Johnson (24) Essex Jct., VT
22. Amanda Habel (9) Roxbury, VT
23. Keith Lord (2) Groton, VT
24. Keith Fortier (35) Hinesburg, VT
25. Jennifer Getty (25) Cambridge, VT
26. Joe Fecteau (75) Hardwick, VT
27. #Paul Grant (46) E. Calais, VT
28. Cassie Trendle (28) Georgia, VT
29. Scott Maynard (59) Burlington, VT
30. #Tommy Elwood (88) Morrisville, VT
31. Tyler McNally (37) Salisbury, VT
32. George Sanders (38) Northfield, VT