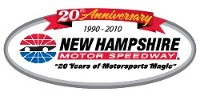 LOUDON, N.H. (July 4, 2012) – As America celebrates its 236th birthday, New Hampshire Motor Speedway officials are honored to announce the inclusion of three United States military branches that make that independence possible.
The U.S. Navy, U.S. Air Force and U.S. Army will each be represented by local units, volunteering their time to assist with everything from security to ushering during the upcoming LENOX Industrial Tools 301 NASCAR weekend July 12-15.

"We are privileged to have representatives from our local armed forces join us here at 'The Magic Mile,' " says Jerry Gappens, executive vice president and general manager of the speedway. "The sacrifices our American troops make on a daily basis are why we're able to celebrate our independence with our friends and family."
The Navy will be represented by the N.O.S.C (Navy Operational Support Center) of Manchester. They will aid NHMS Security on Friday, Saturday and Sunday of race weekend by working security detail and running traffic control. The Navy will set up a tent on the speedway base, where 25 naval volunteers will stay night and day over the course of the three days.
"This is a tremendous opportunity for us to lend a hand to the speedway and show our colors," said John Camp, command chief of the N.O.S.C. of Manchester. "We are happy to lend our support and make sure this event goes as smoothly as possible."
A total of 24 members of the Hanscom Air Force Base out of Bedford, Mass., will come to the speedway on Sunday, July 15. Squadron volunteers will help usher folks to their seats before the green flag drops on the LENOX Industrial Tools 301 Sprint Cup race. Tech Sargent Wayne Briggs said there are already plans for Hanscom AFB to assist with September's SYLVANIA 300, too.
The Army will have soldiers from Nashua, N.H., assist with Speedway Children's Charities volunteers on Sunday, July 15. Army personnel will work with the SCC's "Red Bucket Brigade," to collect donations from race fans during the LENOX Industrial Tools 301.
"We'll do anything to help the kids," says U.S. Army Recruiter Laura Spencer.
Visit NERacingForum.Com for latest New England Racing community News and updates.
Get the latest New England Racing News in your in box, Join our Newsletter today
[adrotate block="3″]