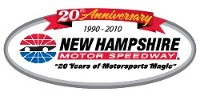 Trophies to be awarded in over 25 classes, including Best in Show
LOUDON, N.H. (August 17, 2012) – It's not going to take Dr. Emmitt Brown's DeLorean from the Back to the Future Trilogy to get a first-hand account of what is sure to be a plethora of custom and vintage vehicles on display this weekend at New Hampshire Motor Speedway's annual Custom & Classic Car Show.
Moved from its traditional spot during May's Vintage Racing Celebration, the automotive exhibition – now slated for Saturday, August 18 and Sunday, August 19 – has become a fan favorite, drawing car owners and enthusiasts from across the Northeast.

The Classic and Custom Car Show creates an outdoor museum of unique vehicles. The show features classics, customs and hot rods from clubs around the region.
On Saturday, trophies will be awarded to over 25 automobile classes, including All Original, Model "T," American Cars (in seven categories), Corvettes, Mustangs, Chevys, Foreign Cars, Motorcycles, Trucks, Street Rods, Special Interest and much more. First, second and third place trophies will be awarded by the judges. On Sunday, Special Prizes will be awarded by peer judges.
The Best of Show will come back to take part in the pre-race festivities for the NASCAR Sprint Cup Series SYLVANIA 300 on Sept. 23. The winner will also receive two suite passes to the NASCAR Whelen Modified Tour F.W. Webb 100, NASCAR K&N Pro Series East G-Oil 100 and American-Canadian Tour Bond Auto Parts ACT Invitational on Saturday, Sept. 22, as well as the SYLVANIA 300 on Sunday, Sept. 23.
The Automotive Flea Market will also be back, a perfect outlet for gearheads hunting for a bargain. From small parts and products to full vehicles, this event offers great prices on all things automotive. Other activities include the car corral, displays & demonstrations, a drive around "The Magic Mile," food & souvenirs and live entertainment.
For more information on the Custom & Classic Car Show or next month's NASCAR SYLVANIA 300 weekend at New Hampshire Motor Speedway, please stop by our Ticket Office, visit the speedway website at www.nhms.com or call our Ticket Hotline at (603) 783-4931.