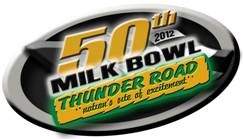 Barre, VT – Two-time Thunder Road Champion Dave Pembroke earned his second Milk Bowl victory this past weekend in the 50th Annual People's United Bank Milk Bowl, picking up a check worth over $14,000. The victory was well worth the wait for the family-run team.
"I'm psyched," Pembroke told the media after the race. "No one else can win it. It will be 50 years before they have another anniversary one. It's pretty cool to me."
On Sunday (October 28), Pembroke filled the final slot on the face of the granite stone that marks 50 years of Milk Bowl Champions. It is his second appearance on the stone, but the last slot is particularly special.
"If you can put your name on this one, it's huge," said Pembroke.
Pembroke's 50th Milk Bowl win should come as no surprise. He is one of only a handful of drivers who have their name on every granite stone at Thunder Road for his two track titles, his two Milk Bowl wins, his Labor Day Classic victory in 2009, and his three Memorial Day Classic victories. He has amassed 19 feature victories at Thunder Road, putting him third on the all-time win list. To add to his storied career, Pembroke quietly picked up the Vermont State Late Model Championship this summer, becoming the first Vermont State Champion in over two decades.
Pembroke's career continues to rise at the "Nation's Site of Excitement" and his 50th Milk Bowl victory may have been his biggest statement yet.
"Any time you can win something like that, your name is in the granite again. They can't take it away from you. You build your history. You're not here for a long time, so you do what you can while you're here," he finished.
For additional information head to www.thunderroadspeedbowl.com, email us at media@acttour.com, or call the Thunder Road office at (802) 244-6963.