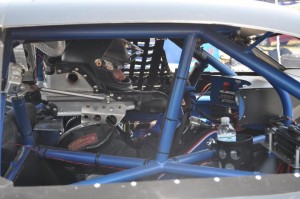 Theriault Kicks Off Season At Speedfest
Maine Driver Looks To Build On Promising 2012 Campaign With BKR

MOORESVILLE, N.C. – Austin Theriault of Fort Kent, Maine, kicks off his 2013 schedule with the ARCA/CRA Super Series Speedfest 200 at Watermelon Capital Speedway in Cordele, Ga., this weekend, January 25-27.
Theriault returns for his second full season in the Brad Keselowski Racing No. 29 Checkered Flag Foundation Ford Fusion.
"We had some time during the offseason to reflect on the past year, and coming into this year, we feel there's a lot of stuff that I learned last year as a driver and that the team has learned that we can carry into the new year," Theriault said. "There's a lot of stuff that goes on behind the scenes that a lot of people don't realize, but I think we've really stepped up our game. We're taking it to the next level."
During the offseason, Theriault moved to North Carolina and now works during the week for Brad Keselowski Racing. He believes that the hands-on time he's spent working on the cars will only pay off in the long run.
"The big thing is me moving down here and having a chance to work on the cars and be more involved in the process during the week," Theriault said. "It helps me understand the process better and be a better driver in a lot of ways."
Last year, Theriault finished eighth in the Speedfest 200 at Watermelon Capital in just his third career start for BKR. He lost most of Friday's practice day after an engine issue in his first visit to the .375-mile oval.
This time around, the 19-year-old driver hopes that what he and the team learned in 2012 will get the No. 29 crew off to a big start to the new year – especially after winning a Pro All-Stars Series Super Late Model race at Oxford Plains Speedway in Maine last October.
"Putting together what I learned last year and what we learned as a team, not only are we going to be better prepared and have a faster car when we get to the track, but I'll be better able to adapt more quickly to changing track conditions," Theriault said.
"It's so much more competitive down here that the person that is able keep up with the track and plan ahead is the guy that's going to come out on top.
Theriault tentatively has 16 races planned with BKR this year, including the Rowdy 251 in Berlin, Mich., the World Crown 300 at Gresham Motorsports Park and the Snowball Derby in Pensacola, Fla. He will also run a number of PASS-sanctioned races in the northeast.
"There has been a lot of change and improvement compared to where we were last year at this time," Theriault said. "Starting out in January, I had only a little experience on this stage. It was something different for me. I had a couple years of touring experience, but it took me some time to adjust.
"We had a pretty decent run going last year, but I think we're going to be even better this year."