PASS South Series: Austin Theriault
Hickory Motor Speedway Race Preview
THE STORY
FORT KENT, Maine – PASS South Series point leader Austin Theriault of Fort Kent, Maine, looks to put Brad Keselowski Racing back in Victory Lane when he heads to the PASS Easter Bunny 150 at Hickory Motor Speedway in Hickory, N.C., on Saturday, March 30. Theriault, who hasn't finished worse than second in either of the first two PASS South races this season and is the only driver in the series to post Top-5 finishes in each of them, has never been to the famed .363-mile oval. He is coming off a win in the season opener at Dillon (S.C.) Motor Speedway earlier this month, followed by a runner-up finish the following week at Myrtle Beach Speedway in the BKR No. 29 Checkered Flag Foundation Ford Fusion. BKR finished second in each of the two PASS South races contested at Hickory last season with driver Landon Cling, including this PASS National Series points race.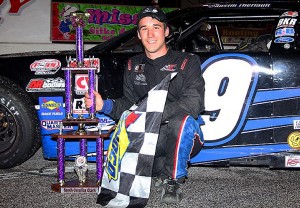 THE FACTS
WHO: Austin Theriault, Fort Kent, Maine
TEAM: Brad Keselowski Racing No. 29 Checkered Flag Foundation Ford Fusion
CREW CHIEF: Gary Crooks, Mooresville, N.C.
BEST CAREER HICKORY MOTOR SPEEDWAY FINISH: N/A
LAST RACE AT HICKORY MOTOR SPEEDWAY: N/A
WHAT: PASS South Series Easter Bunny 150
WHERE: Hickory Motor Speedway, Hickory, N.C. (.363-mile oval)
WHEN: Friday, March 29 – 3 p.m., practice; Saturday, March 30 – 12 noon, practice; 3:30 p.m., qualifying; 8:15 p.m., race
PASS South Series
LAST RACE: March 16, Bash At The Beach 150, Myrtle Beach Speedway, Myrtle Beach, S.C. (2nd)
CURRENT POINTS POSITION: 1st
DID YOU KNOW?
•
Austin Theriault won the PASS South Series South Carolina Clash 150 at Dillon Motor Speedway on March 9 to become the first Brad Keselowski Racing development program driver to win a race since Landon Cling won at South Boston Speedway on June 9, 2012.
•
Austin Theriault hasn't finished worse than second in each of the last three PASS-sanctioned Super Late Model races he's entered. Prior to the South Carolina Clash 150 win, he was victorious in a family-owned car in the PASS North Series season finale at Oxford Plains Speedway in October of 2012.
•
Austin Theriault finished third in the prestigious Oxford 250 at Oxford Plains Speedway in each of the last two seasons, becoming the youngest podium finisher in the 40-year history of the race in 2011.
•
Austin Theriault will compete in six PASS North Series races this season – three at Beech Ridge Motor Speedway and three at Oxford Plains Speedway – in the same family-owned car where he won races at each of those tracks in 2012.
WHAT THEY ARE SAYING
AUSTIN THERIAULT, Driver of the Brad Keselowski Racing No. 29 Checkered Flag Foundation Ford Fusion, On his strong start to the PASS South Series season in 2013: "We've been pretty good this year everywhere we've been and unloaded. I'm looking forward to it this weekend. I think we'll have another shot at contending for a win. It's all about keeping momentum up and building on that each week, and I feel like we're doing that pretty well. If we keep this up, we will be a threat for winning anywhere we go."
On the strong field of teams and drivers expected this weekend at Hickory Motor Speedway: "You definitely try to keep it in the back of your mind. If you think about it too much, though, there's also the chance of taking your eye off what's important – getting comfortable in the car, staying on top of the track, the basics. If you start focusing on who's around you and what's around you for competition, it's really easy to lose sight of the big picture."
On Hickory being a notoriously flat track that's tough on equipment: "It seems like a lot of these PASS races are huge as far as tire management is concerned, and Hickory probably isn't going to be any different. A lot of times, if you don't race the race like you need to, you can have a good car for the first 100 laps and not win the race. It's important to run the whole race and run all 150 laps – you have be around at the end. You don't always have to have the best car to win these races. But if you do have the best car and save your stuff, you'll be in contention at the end."
On improved qualifying efforts for the team in 2013: "That was one of the goals I set for the year, was to qualify better. We've been happy with it, but there's always room to get better. I'm going to keep working. The cars have been fast, everybody's doing the homework that has to be done at the shop, and we're improving on all fronts. It's not just in qualifying, either."
UP NEXT
While the PASS South Series takes next weekend off, Austin Theriault and Brad Keselowski Racing are headed to the Southern Super Series season-opener with a 125-lap event at the Nashville Fairgrounds Speedway on Saturday, April 6… The Southern Super Series begins its inaugural season of competition with the event at the Fairgrounds Speedway.