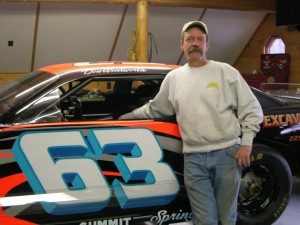 Don Wentworth Ready For Next Chapter
Oxford Plains Veteran Set To Tackle New Pro Late Model Division
SOUTH PARIS, Maine – Don Wentworth can't remember exactly how many years he's been competing at the short track right in his backyard, but it's safe to say he's probably never been more excited about the start of a season than he his now.
"Absolutely," said Wentworth, of Otisfield, Maine, who will return to Oxford Plains Speedway to compete in the track's new Pro Late Model division in 2013. "I'm really looking forward to it. I can't wait to get started."
During the offseason, Wentworth hired Crazy Horse Racing to help him build a brand new chassis. He sold the Late Model he'd competed with at Oxford in recent years with his heart set on spending this winter on the new car.
Even before Oxford Plains Speedway announced last fall that it would be changing its premier division at the track, Wentworth already had it in mind that he was going to have a new piece to pilot on Saturday nights. For him, building cars is nearly as much fun as racing them.
"I was building a new car, anyway," said Wentworth, who started racing Late Models in 1998. "In the past, I've sold cars that had competed stronger than the car I replaced it with, but I enjoy the process of building them.
"I love racing, obviously, but working on the car – whether it's building them or working on them during the week between races – I just love doing that. Sometimes I'm guilty of over-thinking things, but I'm not the only one out there like that."
Wentworth has 11 career feature wins and countless laps in a Late Model at Oxford, but even he knows that moving to a Pro Late Model – with its wider tires, more horsepower and more open shock rules – will take some getting used to.
With Mitch Green and Mickey Green of Crazy Horse Racing in his corner, though, he's feeling more at ease about the change.
"Mitch does a really nice job keeping in confidence the things his customers learn through the school of hard knocks while balancing what he's learned for Crazy Horse through R&D and testing," Wentworth said. "When we take this thing to the race track, Mitch and Mickey will be there. We'll have them as an 'advisory board,' so to speak."
Wentworth's car will be the first straight-rail chassis produced by Crazy Horse Racing, but he said there hasn't been a whole lot of difference in the approach he or the Greens have taken in prepping for what is a new division.
"The proof in the pudding's going to be in the eating," said Wentworth, who plans to run the season-opening PASS North Series 150 at Oxford on April 21 and also the Oxford 250 in July, in addition to the full weekly schedule for the Pro Late Models. "But I approached this the same, really, as we did before – obviously, there's a different shock package and there's the whole straight rail advantage/disadvantage. It was a little head-scratching at times, a little bit of thinking there, but we didn't really approach it any different than in the past.
"Crazy Horse has had so much success with the Late Models, so there wasn't a huge variance. There wasn't a huge percentage difference than if we were building a Late Model under the ACT banner."
And Wentworth is happy to undertake the challenge of competing in a new division with a new car alongside his lifelong racing friends at Crazy Horse Racing.
"I've known Mitch since before my racing days," he said. "Without that connection, that support technical and otherwise, I don't know what I would do. I'm so aligned with them and so loyal – short of driving for someone else – if Crazy Horse closed their doors tomorrow, I would probably be doing other things on the weekends."