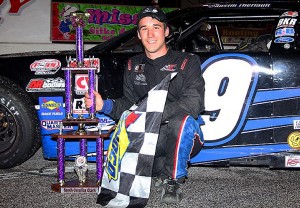 MYRTLE BEACH, S.C. – Austin Theriault of Fort Kent, Maine, posted his second consecutive podium finish in PASS South Series competition, finishing second in the inaugural Bash At The Beach 150 at Myrtle Beach Speedway in Myrtle Beach, S.C., on Saturday, March 16. Theriault, who won the season-opening South Carolina Clash at Dillon Motor Speedway a week earlier, qualified third in the Brad Keselowski Racing No. 29 Checkered Flag Foundation Ford Fusion. He started 10 after the Top-10 qualifiers redrew for starting position, and after patiently riding around inside the Top-15 for the first 100-lap segment of the event, Theriault made his charge toward the front following a two-tire pit stop with 50 laps remaining. Theriault closed the gap to eventual winner Kyle Grissom in the closing laps of the race but simply ran out of time and track position by the time the checkered flag flew.
WHO: Austin Theriault, Fort Kent, Maine
TEAM: Brad Keselowski Racing No. 29 Checkered Flag Foundation Ford Fusion
CREW CHIEF: Gary Crooks, Mooresville, N.C.
WHAT: PASS South Series Bash At The Beach 150
WHERE: Myrtle Beach Speedway, Myrtle Beach, S.C. (.538-mile oval)
STARTED: 10th
FINISHED: 2nd
NEXT RACE: March 30, PASS South Series Easter Bunny 150, Hickory Motor Speedway, Hickory, N.C. (.363-mile oval)
AUSTIN, YOU HAD A VERY GOOD LATE RACE RUN. HOW WOULD YOU DESCRIBE YOUR NIGHT?
We came up a little short. I thought we had a great day – a great couple of days at the race track. I felt like coming off of (the win at Dillon Motor Speedway on March 9) that we had a shot at contending for another win. I think I said earlier in the week that anything less than being in contention for a win was going to be a disappointment. We executed the race to the best of our ability, but we just came up a little short. That's racing. Kyle (Grissom) had a little bit more than us at the end.
Both of us fell back a little bit early in the race. That was our game plan, and we stuck to it. No matter how much faster everybody was at the beginning of the race, I knew they were going to burn their tires up and fall back to us. We were about three-quarters of a lap behind the leaders in the first (100-lap) segment, but we weren't in jeopardy of going a lap down. I picked a pace and ran it the entire first half of the race, and it went green the entire first segment. We worked out of the Top-15 into the Top-10 by the time the break came.
DID YOU FEEL LIKE WITH A FEW MORE LAPS YOU'D HAVE A CHANCE TO WIN?
I had caught him at one point, but I just didn't have enough left. The track is so abrasive on tires – being the guy that had to catch somebody, I probably put myself in a bad situation. He got through the traffic probably a little bit better than we did. On a couple of restarts at the end, he was able to make some of those passes quicker than I was. I got caught in the outside lane and had to work a little harder to get by some of those guys. That's basically where we lost the race, not having enough track position late in the race.
Being that the track was so hard on tires, you had to be the guy out front so you could pick your pace and run your race.
STILL, YOU HAVE TO FEEL PRETTY GOOD ABOUT THE START TO THE SEASON.
It's a good thing to be disappointed with second place. It's a good sign for us. I've got to keep reminding myself how far we've come in the last year, that we're capable of doing this on a week-to-week basis. It's really encouraging, but putting all that in perspective, it's encouraging what we've been able to accomplish so far.
We've got another race coming up (at Hickory Motor Speedway in two weeks) that I think we have a shot at. From there on it's about trying to build a foundation for the bigger races we're running the end of the year.