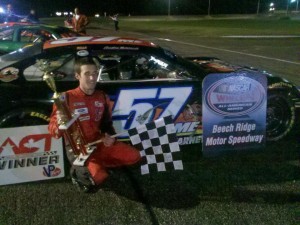 PASS North Series: Austin Theriault
Oxford Plains Speedway Race Preview
THE STORY
FORT KENT, Maine – Austin Theriault of Fort Kent, Maine, returns to the site of his first career Super Late Model victory when the PASS North Series opens its 2013 season with the Ripley & Fletcher Ford 150 at Oxford Plains Speedway in Oxford, Maine, on Sunday, April 21. Theriault won the series' season finale at Oxford last October, and he's bringing the same family-owned No. 57 Pelletier Ford Ford Fusion to the track this weekend. The Brad Keselowski Racing development driver won a PASS South Series event at Dillon Motor Speedway in Dillon, S.C., last month and has finished in the Top-6 in each of his last four PASS-sanctioned starts heading into the weekend at Oxford Plains.
THE FACTS
WHO: Austin Theriault, Fort Kent, Maine
TEAM: AT Racing No. 57 Pelletier Ford Ford Fusion
CREW CHIEF: Mickey Green, South Paris, Maine
BEST CAREER OXFORD PLAINS SPEEDWAY FINISH: 1st (October 2012)
LAST RACE AT OXFORD PLAINS SPEEDWAY: 1st (October 2012)
WHAT: PASS North Series Ripley & Fletcher Ford 150
WHERE: Oxford Plains Speedway, Oxford, Maine (.375-mile oval)
WHEN: Saturday, April 20 – 11 a.m., practice; Sunday, April 21 – 10 a.m., practice; 2 p.m., qualifying; 4:30 p.m., race
PASS North Series
NEXT RACE: May 4, Southern Maine Chrysler Dodge Jeep 150, Beech Ridge Motor Speedway, Scarborough, Maine (.333-mile oval)
DID YOU KNOW?
Austin Theriault won the PASS South Series South Carolina Clash 150 at Dillon Motor Speedway on March 9 to become the first Brad Keselowski Racing development program driver to win a race since Landon Cling won at South Boston Speedway on June 9, 2012.
Austin Theriault hasn't finished worse than sixth in each of the last four PASS-sanctioned Super Late Model races he's entered. Prior to the South Carolina Clash 150 win, he was victorious in a family-owned car in the PASS North Series season finale at Oxford Plains Speedway in October of 2012.
Austin Theriault finished third in the prestigious Oxford 250 at Oxford Plains Speedway in each of the last two seasons, becoming the youngest podium finisher in the 40-year history of the race in 2011.
Austin Theriault will make consecutive PASS North Series appearances to open the series' 2013 season, also competing in his family-owned No. 57 at Beech Ridge Motor Speedway on May 4.
WHAT THEY ARE SAYING
AUSTIN THERIAULT, Driver of the AT Racing No. 57 Pelletier Ford Ford Fusion, On returning to Maine to race with the PASS North Series this weekend: "I think we honestly do feel like we have a little bit of an advantage because we've had far more races at Oxford than a lot of the PASS guys have. They've only been running at Oxford a couple of years, where we've had a lot of ACT (Late Model Tour) races at the track. I feel like from a driver's standpoint, I have more laps at Oxford. I can't tell you how much or how little it helps, but the more seat time you have, the better things usually go.
"For us, it's about having more seat time, more time on the track, knowing what to expect from the track as the day goes on. It's a lot of basic stuff like that, but I think it helps us."
On whether or not the team has made big changes to the car since winning the PASS season finale at the track with the same chassis: "I think anybody would be somewhat crazy to change a whole lot. We were very competitive last year in what should have been a very skewed race – it shouldn't have gone as well as it did for us. Sometimes you get lucky, and we hit on some things that really worked. A race car is just pieces of metal that are welded together, and it only knows what you tell it to do.
"With what we did last year, and as good as we were in the ACT car, there was no reason that we shouldn't have been in contention for that race at Oxford. It turned out really good. Going back to this year, I don't feel like we should change our focus on what works well. No mater what, if something works, you don't change it. That's how I'm approaching this year. Track conditions might change, but I think we'll be ready for it."
On how he approaches being back in a family-owned race car in his home state: "I try to approach every race the same way, but there's different variables that make us approach races differently, obviously. Having to work with different chassis, chassis builders, crew chiefs and spotters – those are the types of variables that force you to change how you approach a race. I've definitely learned a lot throughout the offseason and since we won that race at Oxford at the end of last year.
"Having said all that, there's definitely going to be a different approach on how we look at races up north. That's just like anything – you learn from people that have more experience than you and take what you think you're going to benefit from. I've learned a whole lot since last year. It's like a multiplier thing – you multiply what you learn, and the more you learn, the more it multiplies."
UP NEXT
Austin Theriault rejoins the Brad Keselowski Racing development program for the Southern Super Series Racing Radios 125 at Gresham Motorsports Park in Jefferson, Ga., on Saturday, April 27… Theriault competed in the inaugural Southern Super Series event at Fairgrounds Speedway Nashville in Nashville, Tenn., on April 6 and finished ninth in the BKR No. 29 Checkered Flag Foundation Ford Fusion.