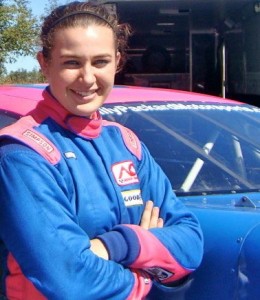 Packard Joins Search For Bone Marrow Donors
Emily Packard Motorsports, 'Be The Match' Teaming Up At Berlin Mall
EAST MONTPELIER, Vt. – Emily Packard and Emily Packard Motorsports will join the Marrow Donor Program at Rutland Regional Medical Center for a bone marrow drive at the Berlin Mall in Berlin, Vt., this Saturday, April 6, from 8 a.m. to 5 p.m.
This marks the second consecutive year that the Emily Packard Motorsports is teaming with program at Rutland Regional, which is associated with the National 'Be The Match' marrow donor registry.
"My cousin Alex was diagnosed with leukemia when he was 16 years old," Packard said, noting the close-to-home nature of the cause. "He's 20 now, got his transplant and has been eight months cancer-free. Anything we can do to help spread the word, we're willing to do."
Together with Berlin Optical Expressions and Berlin Mall, Emily Packard Motorsports is offering community members the chance to be the cure for patients in need of a bone marrow or stem cell transplant this weekend. Registration for potential donors is simple, requiring only paperwork and a cheek swab. No blood is taken at registration.
"These drives are tremendous opportunities to save the life of someone battling leukemia, lymphoma or dozens of other blood diseases," said Kerry Ellis of the Marrow Donor Program at Rutland Regional Medical Center. "We're thrilled to partner with Emily Packard Motorsports to help gain visibility for the drive. Emily has a fantastic following in the area, and she understands firsthand the need for awareness about these critical bone marrow drives."
In 2012, the 16-year-old Packard also brought her No. 9x Northstar Fireworks/Fecteau Homes/GossCars.com/VT Shifter Karts Ford Fusion to the Foley Cancer Center at Rutland Regional Medical Center to meet a family affected by leukemia. The family then attended the races at Devil's Bowl Speedway in nearby West Haven, where they were treated to some laps around the track in a pace car driven by Packard.
"That was a great experience for me," Packard said. "It was a lot of fun to spend time with the kids, and I know they had a great time at the races that day. Hopefully, we can continue to partner with the Rutland Regional Marrow Donor Program, adding potential donors to the 'Be The Match' registry for a long time."