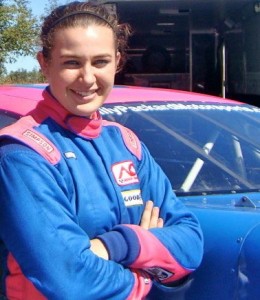 ACT Late Model Tour: Emily Packard
Thunder Road Int'l Speedbowl Race Preview
THE STORY
EAST MONTPELIER, Vt. – Emily Packard of East Montpelier, Vt., will make her 2013 ACT Late Model Tour debut in the Merchants Bank 150 at Thunder Road International Speedbowl in Barre, Vt., on Sunday, April 28. Packard made her first career Tour start at Airborne Speedway in Plattsburgh, N.Y., last fall, and the 16-year-old is hoping to qualify for her first ACT start at Thunder Road. Packard competed full-time in the track's Street Stock division last season while competing in Late Models at Canaan Fair Speedway in Canaan, N.H., and she posted a Top-10 finish in her only weekly Late Model appearance at Thunder Road last summer.
THE FACTS
WHO: Emily Packard, East Montpelier, Vt.
TEAM: No. 9x Northstar Fireworks/Fecteau Homes/GossCars.com/VT Shifter Karts Chevrolet
CREW CHIEF: Neal Woodward, Georgia, Vt.
BEST CAREER THUNDER ROAD SPEEDBOWL FINISH: 9th
LAST RACE AT THUNDER ROAD SPEEDBOWL: DNQ
WHAT: ACT Late Model Tour Merchants Bank 150
WHERE: Thunder Road International Speedbowl, Barre, Vt. (.25-mile banked oval)
WHEN: Saturday, April 27 – 1 p.m., practice; Sunday, April 28 – 11:15 a.m., practice; 1:30 p.m., qualifying; 4 p.m., race
ACT Late Model Tour
LAST RACE: April 14, NH Governor's Cup 150, Lee USA Speedway, Lee, N.H. (—)
NEXT RACE: May 5, Spring Green 113, Devil's Bowl Speedway, West Haven, Vt. (.500-mile oval)
DID YOU KNOW?
Emily Packard became the first woman in a decade to win a feature event at Thunder Road International Speedbowl when she won a Street Stock feature at the track last summer.
Emily Packard was voted the 2012 Vermont Motorsports Magazine Rookie of the Year, and she was also named the Vermont Sportswriters & Sportscasters Association Athlete of the Month for August 2012.
Emily Packard was one of 36 Late Model drivers from across the northeast and Canada invited to participate in the ACT Invitational at New Hampshire Motor Speedway during the NASCAR Sprint Cup Series Sylvania 300 weekend last September.
Emily Packard Motorsports crew chief Neal Woodward is a five-time ACT Late Model Tour champion crew chief whose cars set track qualifying records at New Hampshire Motor Speedway and Beech Ridge Motor Speedway.
WHAT THEY ARE SAYING
EMILY PACKARD, Driver of the No. 9x Northstar Fireworks/Fecteau Homes/GossCars.com/VT Shifter Karts Chevrolet, On her recent test session at Thunder Road International Speedbowl: "I thought it went really well. It was my first time out in a car all winter, so really it was about me getting comfortable in the car again. We completely re-did it over the winter, so the biggest thing was just going out there and making sure there were no leaks in the car – no shakes, noises, rattles or anything. It was good for that.
"I wish we'd have been able to go to the track and test somewhere before that. Really, it wasn't about making a whole bunch of changes to it. It was really about me sort of re-learning the car again."
On the challenges of racing at Thunder Road: "There's not a lot of grip there to begin with, but honestly, every time you go to Thunder Road it's like a different track. I feel like you have to learn it all over again. That's something I've had trouble with in the past there – going and re-learning it, especially when I'm going from car to car and track to track all season.
"The grip changes there more than anything. Every time you go there, you might have to take a different line to get around the track the fast way. But about the best way to say it is that every time I go there, it's like you're racing on a whole different track."
On her goals for her first ACT Late Model Tour weekend of the year: "I think my goals for this weekend are just to make it into the race and bring the car home in one piece. I really don't want to tear up a car. Especially because our next race is at Devil's Bowl, where I don't have the best luck in the world.
"Of the five races I've been out there (at Devil's Bowl), I've only finished one. I know for a fact in my mind we're going to have work to do on the car after that race, so this weekend becomes important in terms of not getting ourselves behind. I really just need to have a good, solid weekend where we come out of it in one piece."
UP NEXT
The ACT Late Model Tour heads to Devil's Bowl Speedway in West Haven, Vt., for one of the season's signature events, the Spring Green 113, on Sunday, May 5… Emily Packard plans to compete in next two ACT events on the schedule before heading to weekly NASCAR Whelen All-American Series competition at Canaan Fair Speedway on Saturday, May 11.