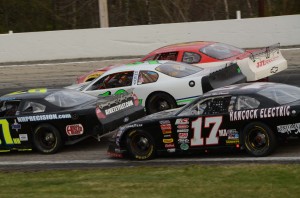 Macdonald, Theetge File Entries
Waterbury, VT – Race season is finally upon us as the American Canadian Tour kicks off their 2013 season with the New Hampshire Governor's Cup 150 at Lee USA Speedway on Sunday, April 14th. The pressure will be on for last year's winner Brian Hoar and 8-time Lee USA Speedway Champion and defending ACT Champion Wayne Helliwell, Jr., but the competition will be hungry after a long offseason away.
Rowley, MA's Eddie Macdonald, a 2-time Bond Auto ACT Invitational winner, will make the trek to Lee, NH, making him one of the early favorites. He led laps late in last year's opening event, but was caught up in an altercation with Joey Polewarczyk, Jr. that ended both drivers' hopes at the win.
Two-time Série ACT Castrol Champion Donald Theetge will be crossing the border to represent the Canadians, along with fellow Quebec racer Alex Labbé, who will be driving the familiar ride of former Castrol Series Champion Karl Allard out of the Larue Motorsports stable.
Emily Packard will also join the list, racing for the first time at Lee in ACT competition. She impressed with a top ten run at Thunder Road, and Rookie of the Year honors at Canaan Speedway in 2012, and now looks to the American Canadian Tour to continue her resume.
ACT Rookie of the Year contender Travis Stearns will begin his first full season with the Tour at Lee, NH, sporting his brand new car owned by long-time car owner Richard Green. He will be joined by seven-time ACT Champion Jean-Paul Cyr ,Oxford Plains Champion Shawn Martin, ACT veteran Glen Luce, and many others.
The American Canadian Tour season begins with the New Hampshire Governor's Cup 150 at Lee USA Speedway this Sunday, April 14. Post time is 1:15pm.