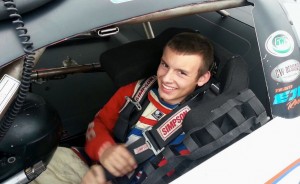 PASS North Series: Reid Lanpher
Oxford Plains Speedway Race Preview
THE STORY
MANCHESTER, Maine – Reid Lanpher of Manchester, Maine, makes his PASS North Series debut when the series opens its 2013 season in the Ripley & Fletcher Ford 150 at Oxford Plains Speedway in Oxford, Maine, on Sunday, April 21. The 14-year-old JR Motorsports development driver competed in a handful of Granite State Pro Stock Series events last summer, but this weekend's race marks his first full-blow Super Late Model effort after running primarily Late Model Stocks in the south and Legend cars here in the northeast. Lanpher posted a pair of Top-10 runs in GSPSS efforts last summer while also winning the open-competition "Fall Brawl" Pro Stock event at Wiscasset Speedway in October in a Ricci Race Car prepared by Tony Ricci of Westbrook, Maine. It's the same car that Lanpher will bring to Oxford, where four-time NASCAR K&N Pro Series East champion Andy Santerre – a former competition director at both Rev Racing and Hattori Racing Enterprises – will serve as crew chief. Lanpher has never competed in a race event at Oxford Plains Speedway.
THE FACTS
WHO: Reid Lanpher, Manchester, Maine
TEAM: Team EJP No. 59 Mission Trailers/Eastern Township Docks Chevrolet
CREW CHIEF: Andy Santerre, Yarmouth, Maine
BEST CAREER OXFORD PLAINS SPEEDWAY FINISH: N/A
LAST RACE AT OXFORD PLAINS SPEEDWAY: N/A
WHAT: PASS North Series Ripley & Fletcher Ford 150
WHERE: Oxford Plains Speedway, Oxford, Maine (.375-mile oval)
WHEN: Saturday, April 20 – 11 a.m., practice. Sunday, April 21 – 10 a.m., practice; 2 p.m., qualifying; 4:30 p.m., race
PASS North Series
NEXT RACE: May 4, Southern Maine Chrysler Dodge Jeep 150, Beech Ridge Motor Speedway, Scarborough, Maine (.333-mile oval)
DID YOU KNOW?
Reid Lanpher became the youngest driver in history (14) to win an event at New Hampshire Motor Speedway when he won an Amsoil NELCAR Legends Tour race on the road course at the facility last May.
Reid Lanpher finished third in just his sixth career Late Model Stock start while driving for JR Motorsports at Southern National Motorsports Park on April 6.
Reid Lanpher won the Super Late Model feature at the Wiscasset Speedway's "Fall Brawl" last October, earning a victory in just his third career Pro Stock start.
Reid Lanpher competes as a teammate at JR Motorsports to Josh Berry. Berry won the 2012 NASCAR Whelen All-American Series track championship at Motor Mile Speedway in Fairlawn, Va.
Just 14 years old, Reid Lanpher has already won Pro Stock, Modified, Legend, go-kart, Mini-Cup, motocross and snowmobile feature events in his career.
WHAT THEY ARE SAYING
REID LANPHER, Driver of the Team EJP No. 59 Mission Trailers/Eastern Township Docks Chevrolet, On making his PASS North Series debut this weekend at Oxford Plains Speedway: "I'm so appreciative, so fortunate to have this opportunity to do all of this racing this year. The drivers and teams up here are as good as anywhere. There's no doubt there are some big names, and just to have the opportunity to race against them, I couldn't be anymore thankful.
"To start off, I don't have a ton Super Late Model seat time. I'm just going to try my best the first couple of weeks and see what we've got. There's a lot of unknowns – we don't know how good a car we'll have or how good everything will go or how I will take to the tracks. So, we'll go in a little blind and hope everything goes well."
On what he knows about Oxford Plains Speedway: "I really have no idea about the race track. I've driven it on iRacing before, but that's about it. I'm excited about having Saturday to and test, to get the car tuned in. We'll see what we can learn on Saturday, and then we'll practice some more on Sunday and see if we can't get it fine-tuned a little bit more.
"I think the handling going to be a lot different from what I'm used to (in the JR Motorsports Late Model). The chassis, the car, the motor – it's all a lot different than what I've been in."
On having Andy Santerre as crew chief for his PASS North Series efforts this season: "I'm really excited. He's got to be one of the most knowledgable guys around there. We're definitely not going to be lacking brains in the pits.
"I'm excited to be able to race back in Maine for the first time this year. It will be a lot different for me – I know a lot of the people, and it's going to be fun."
UP NEXT
The Dirty Dozen Cup returns for Round No. 4 with its first visit to Motor Mile Speedway in Radford, Va., for Twin 125 Late Model events on Saturday, April 27… Reid Lanpher will compete in that event for JR Motorsports before heading back to Maine for the PASS North Series event at Beech Ridge Motor Speedway on May 4.