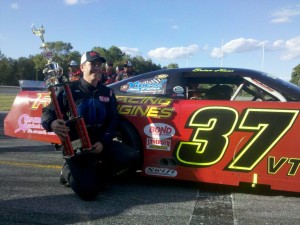 8-Time Champion, RPM Motorsports Set Sights Limited 2013 Schedule
GEORGIA, Vt. – After combining to win more races and championships than any driver and car owner tandem in the history of the ACT Late Model Tour, Brian Hoar and Rick Paya are shifting gears in 2013.
The decorated driver and owner/crew chief combination will compete part-time on the ACT Late Model Tour this season, beginning this weekend with the season-opening New Hampshire Governor's Cup 150 at Lee USA Speedway in Lee, N.H., on April 20-21.
"I just have a lot going on business-wise and personal-wise, and I've been racing a long time," said Hoar, 40, who has won the last two ACT races at Lee USA. "Life is all about balance and balancing everything between family, work and racing. My family and I are just as busy as ever. Spending so much time racing (became harder) with all of my work requirements and things I wanted to do with the family.
"I've got some other stuff I've wanted to do, and it seemed like the right time to slow it down a bit."
Hoar, of Williston, Vt., and Paya, of Georgia, Vt., teamed to win three consecutive ACT championships from 2009-2011. Each won five championships previously – Hoar with his family-owned team before he went to the old NASCAR Busch North Series and Paya with Jean-Paul Cyr driving for him. While Hoar has 37 career Tour wins, nearly twice as many as the next driver on the all-time win list, Paya has crew chiefed his way to more than 30 victories.
The RPM Motorsports No. 37 GossCars.com Dodge Charger will compete in the first four ACT events of this season. They will also run a pair of August races in Canada, both the inaugural International 500 at Airborne Speedway and the Milk Bowl at Thunder Road International Speedbowl, and two extra-distance ACT events late in the season.
They may not be chasing the championship again in 2013, but they'll both certainly be looking to add to their impressive win total. Hoar said he doesn't plan to change his approach to race day at all.
"It's a simple answer: no," Hoar said. "It doesn't change my approach at all… I know if you want to win, you still have to have the fenders on it and be there at the end. I always try to race within mine and my car's capabilities. I try to race smart to be in position to win the fight at the end. I'm not going out there saying, 'Checkers or wreckers' – what's been successful for me has been my approach."
With his win in the Governor's Cup 150 last season, Hoar became the first repeat winner in the 23-race history of ACT at Lee USA. It's a track that suits both Late Model racing, and Hoar's driving style.
He'd like to make it three in a row this weekend.
"There's not a lot of grip there, and we've got a good setup for it," Hoar said. "I've always liked the track – the style of it, the way we race and pass there.
"We've had a great race car every year I've race for Rick there at Lee. I'm really pumped. We tested last week, and the car should be really quick. I'm looking forward to it."