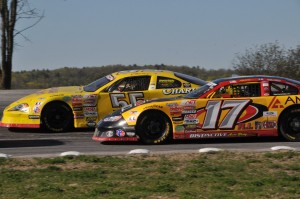 Waterbury, VT—This Saturday, May 18 the American Canadian Tour will head to Plattsburgh, NY's Airborne Speedway for the ACT 100: a race that will pit an experienced veteran class against ACT's latest youth movement.
Point leader Jimmy Hebert and fourth-place point man Ray Parent will make just their second trip to Airborne Speedway in their ACT careers, but both earned top ten finishes when they debuted at the track in last year's season finale. They make their return in brand new cars in 2013, and look to continue the hottest start of their ACT careers.

Defending ACT Champion Wayne Helliwell, Jr. has only raced with ACT twice at Airborne Speedway, claiming a fourth in his first try, and famously winning his first ACT title in last year's finale with a victory in his second start. Airborne has been good to Helliwell, but veterans Brian Hoar and Brent Dragon will look to make use of their years of experience to dethrone the Champ. Hoar leads all ACT drivers with 7 victories at Airborne, while leading the most laps (723), and making the most money ($31,857). Dragon, on the other hand, has tamed the track for a series-leading 26 top tens in 34 starts.
Not to be counted out is former Fall Foliage 200 winner Joey Polewarczyk, Jr., who, in his last four attempts at Airborne, has an average finish of 3.5 including his 2011 victory. Polewarczyk comes into Saturday's showdown tied with Dragon for fifth overall in the ACT standings.
Post time for the ACT 100 is 5pm this Saturday, May 18. The race will be part of a full card of racing action including Airborne's own Modified, Renegade, Mini-Mod, and Sportsman divisions. Adult tickets are $17, children 12 and under are free.