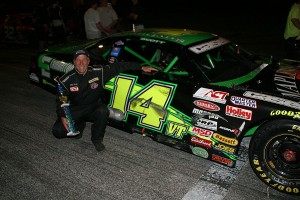 Moodie, Davis Pick Up Feature Victories
Barre, VT – With Governor Peter Shumlin out of town, Lieutenant Governor Phil Scott took the first victory for a Vermont Acting Governor in state history in the 50-lap Late Model Feature at Barre's Thunder Road on Thursday night, June 20, adding his 28th win to his resume as the track's all time winningest driver. A pair of Milton, VT competitors, Scott Payea and Jean-Paul Cyr, completed the podium.

Barre's own Jim Morris led the early part of the race, holding off attacks from Scott and pole-sitter Blair Bessett until a series of wild cautions mid-race sent cars spinning all over the track. Morris would withstand several restarts before Scott took over, powering to the victory ahead of a mad dash for second place. Payea and Cyr made it ahead of the fray to pick up second and third. Cyr was followed by co-point leader Dave Pembroke in fourth, and "Hurricane" Jamie Fisher in the top five.
Morris, Trampas Demers, Cody Blake, Cris Michaud – who made his first return back to the track after an offseason injury -, and Defending Champion Nick Sweet rounded out the top ten.
Wolcott, VT's Brendan Moodie, Jr., took down his first win of 2013 in the Bond Auto Tiger Sportsman, besting John Lambert and Jeff Bousqet in a 35-lap thriller.
Moodie took over the lead on lap 18 of the feature event, under constant attack from "Double O" Joe Steffen. A lap 27 caution set up a restart with 8 laps to go. Lambert powered past Steffen off the start – with a flapping hood– for second place and Bousqet slid by him to nab third at the line. Jason Allen took home fourth, and Steffen rounded out the top five.
Another Wolcott driver, Jamie Davis took home the victory in the Allen Lumber Street Stock division, holding off point leader Dean Switser, Jr., and "Hot Shot" Bunker Hodgdon who completed the podium.
The race was led early by rookie George Butler, before he suddenly veered into the infield mid-race to hand the lead to former Champion Gary Mullen. Mullen led until an altercation with 2011 Champion Greg Adams sent both cars to the back, handing a restart to Davis and Switser for all the marbles. Davis powered away to the victory, leaving Switser to fend off Hodgdon. Waitsfield, VT's Troy Kingsbury and East Montpelier, VT's Donny Yates finished fourth and fifth respectively.
The Rough Riders made their debut at the "Nation's Site of Excitement," with two 12 lap features to kick off their 8-race schedule. Waitsfield, VT's Paul Dudley survived the door-jamming, paint-swapping event to win with a 1st place finish in segment one and a second-place in segment two. He was followed by Jamie Benneig and Alan Derrington on the podium.
Thunder Road will return to action next Thursday night, June 27 for Fairpoint Communications night. Post time is 6:30pm.
Casella Waste Management Night
Thunder Road International Speedbowl – Barre, VT
Thursday, June 20, 2013
Late Model Unofficial Results
Pos. Driver (Car #) Hometown
1. Phil Scott (14vt) Middlesex, VT
2. Scott Payea (89vt) Milton, VT
3. Jean-Paul Cyr (32vt) Milton, VT
4. Dave Pembroke (44vt) Middlesex, VT
5. Jamie Fisher (18vt) Shelburne, VT
6. Jim Morris (13vt) Barre, VT
7. Trampas Demers (85vt) S. Burlington, VT
8. Cody Blake (99vt) Barre, VT
9. Cris Michaud (6vt) Montpelier, VT
10. Nick Sweet (88vt) Barre, VT
11. Mike Bailey (00vt) South Barre, VT
12. #Derrick O'Donnell (60vt) N. Haverhill, NH
13. Brooks Clark (68vt) Fayston, VT
14. David Whitcomb (25vt) Essex Jct., VT
15. #Jason Corliss (66vt) Barre, VT
16. Kyle Pembroke (27vt) Montpelier, VT
17. Brett Wheeler (1vt) Waterbury, VT
18. Brett Gervais (11nh) Island Pond, VT
19. Emily Packard (9me) E. Montpelier, VT
20. Rick Roberts (3vt) E. Barre, VT
21. Joey Becker (16vt) Jeffersonville, VT
22. #Terry Reil (11vt) E. Barre, VT
23. Mark Norris (22me) Farmington, ME
24. Blair Bessett (21vt) Worcester, VT
25. #Joey M. Laquerre (51vt) E. Montpelier, VT
26. Joey Laquerre (15vt) E. Montpelier, VT
27. #Robert Eldred (38vt) Waterbury, VT
28. Eric Chase (40vt) Milton, VT
29. Matthew White (42vt) Northfield, VT
Bond Auto Tiger Unofficial Results
Pos. Driver (Car #) Hometown
1. Brendan Moodie (94) Wolcott, VT
2. John Lambert (2) Northfield, VT
3. Jeffrey Bousquet (60) Worcester, VT
4. Jason Allen (29) Barre, VT
5. Joe Steffen (00) Grand Isle, VT
6. Shawn Fleury (31) Middlesex, VT
7. Jason Woodard (68) Waterbury Ctr., VT
8. Scott Coburn (1) Barre, VT
9. Josh Demers (10) Montpelier, VT
10. Eric Badore (04) Milton, VT
11. Mike Martin (01) Craftsbury Common, VT
12. Mike Rollins (91) Williamstown, VT
13. Adam Pierson (85) Bradford,VT
14. David Finck (37) Barre, VT
15. Chris Roberts (9) Washington, VT
16. Mike Ziter (26) Williamstown, VT
17. Darrell Morin (71) Essex Jct., VT
18. #Cameron Ouellette (90) Barre, VT
19. Randy Gonyaw (22) S. Barre, VT
20. #Daniel Lathrop (6) Hyde Park, VT
21. Ty Gagne (17) Fairfax, VT
22. #Chris Judd (51) Springfield, VT
23. Christopher Pelkey (64) South Barre, VT
24. Tucker Williams (11) Hyde Park, VT
25. Clem Despault (3) Waterbury, VT
26. #Justin Gibbs (30) Waterbury, VT
27. Kevin Dodge (14) Barre, VT
28. Mike Billado (8) Essex, VT
Allen Lumber Street Stocks Unofficial Results
Pos. Driver (Car #) Hometown
1. Jamie Davis (43) Wolcott, VT
2. Dean Switser, Jr. (16) Lyndonville, VT
3. Bunker Hodgdon (83) Wolcott, VT
4. Troy Kingsbury (39) Waitsfield, VT
5. Donnie Yates (05) N. Montpelier, VT
6. Alan Maynard (10) Fairfax, VT
7. #Tommy Elwood (88) Morrisville, VT
8. Kyle Streeter (37) Waitsfield, VT
9. Kevin Dodge (8) Barre, VT
10. Martin Ingram (99) Essex Jct., VT
11. Greg Adams (38) Hardwick, VT
12. Joe Fecteau (75) Hardwick, VT
13. #Tyler Austin (5) E. Calais, VT
14. Gary Mullen (29) Tunbridge, VT
15. #Patrick Tibbetts (48) Barre, VT
16. Keith Fortier (35) Hinesburg, VT
17. George Sanders (68) Northfield, VT
18. Alex Perkins (55) White River Jct., VT
19. Scott Maynard (59) Burlington, VT
20. Marvin Johnson (19) Essex Jct., VT
21. Paul Grant (46) East Calais, VT
22. #George Butler (9) Randolph, VT
23. Michael Gay (3) S. Burlington, VT
DNS – Jennifer Getty (25) Cambridge, VT
DNS – Tommy Smith (50) Williamstown, VT
Rough Riders Unofficial Results
Pos. Driver (Car) Hometown, Seg. 1, Seg. 2, Total
1. Paul Dudley (42) Waitsfield, VT, 1, 2, 3
2. Jamie Benneig (98) Williston, VT, 5, 4, 9
3. Alan Derrington (75) Bethlehem, NH, 9, 1, 10
4. Tommy Smith (Bee) Williamstown, VT, 4, 7, 11
5. Bunker Hodgdon (Hotshot) Wolcott, VT, 3, 8, 11
6. Richie Veilleux (22) Lisbon, NH, 7, 5, 12
7. Calvin Caswell (23) Jericho, VT, 6, 6, 12
8. Justin Johnson (79) East Barre, VT, 12, 3, 15
9. Randy Johnson (101) East Barre, VT, 10, 9, 19
10. Jamie Davis (Silver) Wolcott, VT, 11, DNS, N/A
DSQ. Donnie Yates (CJ) N. Montpelier, VT, 8, DSQ, N/A
DSQ. Greg Adams (Bash) Hardwick, VT, 2, DSQ, N/A