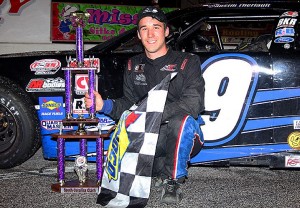 PASS South Series: Austin Theriault
Southern Nat'l Motorsports Park Race Preview
THE STORY
FORT KENT, Maine – Austin Theriault of Fort Kent, Maine, returns to the PASS South Series for the Rumble In The Pines 150 at Southern National Motorsports Park in Kenly, N.C., on Saturday, June 22. Theriault has made just three PASS South starts this season, recording his second career PASS-sanctioned win in a 150-lap event at Dillon Motor Speedway in March. In three PASS South races this season, Theriault has a pair of Top-3 finishes and has not finished outside the Top-6 in the Brad Keselowski Racing No. 29 Checkered Flag Foundation Ford Fusion. This is Theriault's first career trip to the .438-mile Southern National Motorsports Park.

THE FACTS
WHO: Austin Theriault, Fort Kent, Maine
TEAM: Brad Keselowski Racing No. 29 Checkered Flag Foundation Ford Fusion
CREW CHIEF: Gary Crooks, Mooresville, N.C.
BEST CAREER SOUTHERN NATIONAL MOTORSPORTS PARK FINISH: N/A
LAST RACE AT SOUTHERN NATIONAL MOTORSPORTS PARK: N/A
WHAT: PASS South Series Rumble In The Pines 150
WHERE: Southern National Motorsports Park, Kenly, N.C. (.400-mile oval)
WHEN: Friday, June 21 – 12 p.m., practice; Saturday, June 22 – 12:30 p.m., practice; 5:15 p.m., qualifying; 9 p.m., race
DID YOU KNOW?
Austin Theriault won the PASS South Series South Carolina Clash 150 at Dillon Motor Speedway on March 9 to become the first Brad Keselowski Racing development program driver to win a race since Landon Cling won at South Boston Speedway on June 9, 2012.
Austin Theriault hasn't finished outside the Top-10 in each of the last seven PASS-sanctioned Super Late Model races he's entered. Prior to the South Carolina Clash 150 win, he was victorious in a family-owned car in the PASS North Series season finale at Oxford Plains Speedway in October of 2012.
Austin Theriault added the Racing Radios 125 at Gresham Motorsports Park to his schedule in order to get more track time in advance of the prestigious World Crown 300 at the facility on July 4. Along with the Snowball Derby, All-American 400 and Winchester 400, the World Crown 300 is part of the "Grand Slam" of Super Late Model racing.
Austin Theriault finished sixth in the ARCA/CRA Super Series Battle At Berlin 251 at Berlin Raceway in Marne, Mich., last weekend.
WHAT THEY ARE SAYING
AUSTIN THERIAULT, Driver of the Brad Keselowski Racing No. 29 Checkered Flag Foundation Ford Fusion, On heading to Southern National Motorsports Park for the first time this weekend: "We've been really competitive at all the PASS races we've gone to. I'm pretty sure this will not be an exception. We won at Dillon, we ran well at Myrtle Beach. I think we're even better now, with better cars, and I believe we can come back and bounce back after what happened at Berlin. We put ourselves in a good position to win that race, but it just didn't work out that way.
"If we can do the things we've been doing, we'll be really good this weekend.
"Not knowing a lot about the track other than videos I've watched online, it seems a little bit like a White Mountain (Motorsports Park), only bigger. It looks like it will be a fight to get to the bottom. Having not ever raced there, I won't completely know what to expect, but I'm looking forward to it and trying to capitalize on another win."
On why he's been able to adapt quickly this season to tracks he's never raced at before: "I think it's really important for anybody – for all drivers and teams – to be able to adapt quickly. Whether it's a new track or something changes at a track you've raced at your whole life, you have to be able to go in and make decisions quickly.
"For me, it's good to be able to rely on (crew chief Gary Crooks) or whoever I'm working with. That's always huge, and it will be this weekend, too. They'll have notes from running at this track before, and they'll know what helped them or what made them go faster. As a driver, I can rely on Gary somewhat to tell me what I'm doing right or what I'm doing wrong in that department."
UP NEXT
Austin Theriault returns Pro All-Stars Series competition since early May for the PASS South 150 at Southern National Motorsports Park in Kenly, N.C., on Saturday, June 22… Theriault won his first career PASS South race at Dillon Motor Speedway in March.