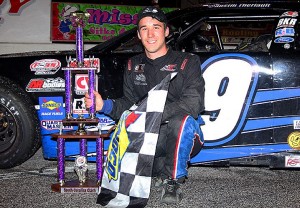 Brad Keselowski Racing: Austin Theriault
Battle At Berlin 251 Race Preview
THE STORY
FORT KENT, Maine – Austin Theriault of Fort Kent, Maine, is back in the seat for Brad Keselowski Racing at the Battle At Berlin 251 at Berlin Raceway in Marne, Mich., on Saturday, June 15. Theriault made his debut on the flat .438-mile oval last season in the 251-lap main event, finishing 13th in the CRA Super Series sanctioned event. The driver of the BKR No. 29 Checkered Flag Foundation Ford Fusion is looking forward to continuing his strong run this season in the BKR Fords while competing in one of the biggest races of the first half of the 2013 season. The team practiced and qualified for a 75-lap event at Berlin two weeks ago before the race itself was rained out, but Theriault has not finished outside of the Top-10 in seven consecutive Super Late Model races dating back to last season – including a sixth-place effort at Gresham Motorsports Park in the Southern Super Series Racing Radios 125 in April – and expects to turn in another strong run this weekend.

THE FACTS
WHO: Austin Theriault, Fort Kent, Maine
TEAM: Brad Keselowski Racing No. 29 Checkered Flag Foundation Ford Fusion
CREW CHIEF: Gary Crooks, Mooresville, N.C.
BEST CAREER BERLIN RACEWAY FINISH: 13th (June 2012)
LAST RACE AT BERLIN RACEWAY: 13th (June 2012)
WHAT: Battle At Berlin 251
WHERE: Berlin Raceway, Marne, Mich. (.438-mile oval)
WHEN: Thursday, June 13 – 4 p.m., practice; Friday, June 14 – 2 p.m., practice; Saturday, June 15 – 3 p.m., practice; 5:45 p.m., qualifying; 8 p.m., race
DID YOU KNOW?
Austin Theriault won the PASS South Series South Carolina Clash 150 at Dillon Motor Speedway on March 9 to become the first Brad Keselowski Racing development program driver to win a race since Landon Cling won at South Boston Speedway on June 9, 2012.
Austin Theriault hasn't finished outside the Top-10 in each of the last five PASS-sanctioned Super Late Model races he's entered. Prior to the South Carolina Clash 150 win, he was victorious in a family-owned car in the PASS North Series season finale at Oxford Plains Speedway in October of 2012.
Austin Theriault added the Racing Radios 125 at Gresham Motorsports Park to his schedule in order to get more track time in advance of the prestigious World Crown 300 at the facility on July 4. Along with the Snowball Derby, All-American 400 and Winchester 400, the World Crown 300 is part of the "Grand Slam" of Super Late Model racing.
Austin Theriault made his first PASS North Series start of the season last weekend at Oxford Plains Speedway and finished ninth in a family-owned car. He will return to the PASS North Series on May 4 for a 150-lap event at Beech Ridge Motor Speedway.
WHAT THEY ARE SAYING
AUSTIN THERIAULT, Driver of the Brad Keselowski Racing No. 29 Checkered Flag Foundation Ford Fusion, On his impressions of Berlin Raceway: "The track configuration is a little bit different than some of the others we race at down south. It's a bit more flat. It's more of an oval. The last time there, there was some pretty good racing and some passing going on. Our cars are better now, I'm more experienced, and we should have a fast car. I feel like we're taking a better package overall to the race track right now.
"Berlin's not as flat as the tracks in Maine, but I've had my fair share of experience on flatter tracks. I know what I want to feel in the car on these kinds of tracks. We're racing against a lot of good drivers, so it's hard to say I have an advantage or what not – a lot of drivers know what they want to feel in the car no matter what track they go to. Who knows what it means. I know that we want to work hard to be good there."
On how much the team learned during its trip to Berlin Raceway two weeks ago: "We got some real-life track time with practice and qualifying time. That's going to help us this weekend. We did have some stuff to work on last time that we didn't quite figure out at the track. Having a couple weeks to think about it, going back to the shop after trying some stuff out gives us the chance to try and get better when we get back there.
"It allowed us to do stuff that requires more time to work at the shop compared to racing at the track, when you practice on Friday and you're limited on what you can make for changes for the race the next day. This gave us a chance to think on it, go through all our notes and see where we can improve. We still have some work to do, but I think we're on the right track. Having those laps was a positive."
On being able to contend for wins in some of the summer's marquee races, including the Battle At Berlin 251: "It's usually rare that there's a reason we can't contend for a win. It typically has to be something out of our control. Anything can happen, and we know that. I'm sure the track will be different than it was a couple weeks ago. More cars will show up, and it's going to be a challenge just getting in – I'm not saying we'll have issues qualifying, but everyone will have to step up their game. Keeping that in mind, but I don't think we'll have any issues contending for a good finish.
"You've got live pit stops and some variables in these bigger races – parts failures, people trying to run too hard too early, running into trouble or causing wrecks – all stuff you have to watch out for. At the end of the day, when the green flag drops, we'll have everything in order. The car will be decent, and we'll keep working on it to make it better all weekend."
UP NEXT
Austin Theriault returns Pro All-Stars Series competition since early May for the PASS South 150 at Southern National Motorsports Park in Kenly, N.C., on Saturday, June 22… Theriault won his first career PASS South race at Dillon Motor Speedway in March.