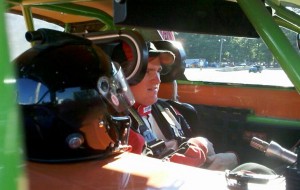 PASS North Series: Bradley Babb
Oxford Plains Speedway Race Preview
THE STORY
WINDHAM, Maine – Bradley Babb of Windham, Maine, returns to PASS North Series competition this weekend for the PASS 150 at Oxford Plains Speedway in Oxford, Maine, on Sunday, June 23. Babb won the pole for the season-opening PASS race at Oxford, and he heads into Sunday's event looking to get a handle on the No. 14 Babb Wood Contractors/McGoldrick Bros. Blasting Chevrolet as the 40th annual TD Bank Oxford 250 inches closer on the calendar. Babb will compete in the car his father, Bobby Babb, drove in the first two NASCAR Whelen All-American Series events of the season at Beech Ridge Motor Speedway – which is also the same car Bradley won the pole with at Oxford in April.

THE FACTS
WHO: Bradley Babb, Windham, Maine
TEAM: No. 14 Babb Wood Contractors/McGoldrick Bros. Blasting Chevrolet
CREW CHIEF: Bobby Babb, Windham, Maine
BEST CAREER OXFORD PLAINS SPEEDWAY FINISH: 14th (April 2013)
LAST RACE AT OXFORD PLAINS SPEEDWAY: 14th (April 2013)
WHAT: PASS North Series 150
WHERE: Oxford Plains Speedway, Oxford, Maine (.375-mile oval)
WHEN: Sunday, June 23 – 12 p.m., practice; 4 p.m., qualifying; 6 p.m., race
PASS North Series
LAST RACE: June 8, PASS 150, Speedway 660, Geary, N.B. (PPD-rain)
NEXT RACE: June 29, PASS 150, Canaan Fair Speedway, Canaan, N.H. (.333-mile oval)
DID YOU KNOW?
Bradley Babb became the first third-generation champion in Beech Ridge Motor Speedway's top division when he won the 2012 NASCAR Whelen All-American Series Pro Series championship at the track. His father Bobby Babb and grandfather Robert Babb are both multi-time Beech Ridge champions in the top division.
Bradley Babb was honored at the NASCAR Hall of Fame convention center in Charlotte, N.C., in December as both a state and track champion in the NASCAR Whelen All-American Series.
Bradley Babb finished second in a 50-lap NASCAR Whelen All-American Series feature event at Beech Ridge Motor Speedway on June 1.
Bradley Babb won the pole for his most recent start at Oxford Plains Speedway in April, led nearly a third of the race and had a solid Top-10 run going when he was shuffled back by contact from another car on a green-white-checkered restart at the end of the 150-lap event.
Bradley Babb was the 2010 ACT Late Model Tour Rookie of the Year.
WHAT THEY ARE SAYING
BRADLEY BABB, Driver of the No. 14 Babb Wood Contractors/McGoldrick Bros. Blasting Chevrolet, On heading to Oxford Plains Speedway this weekend, where he's had stronger runs of late: "We're basically going back to the setup we ran from 2007 until almost the end of last year. It was always very consistent and good no matter where we took it. I'm hoping it still will be this weekend. We have a few other options if it doesn't work, but I'm pretty optimistic that we'll be good.
"If car goes good this weekend, probably bring it to (the TD Bank Oxford 250 on July 21). If it doesn't, we'll probably take the other car or we just won't go at all. It better perform."
On his decision to attempt just his third PASS race of the 2013 season: "I like the guys that race in this series, and for the most part, they are better to race with. I'm not saying everybody at Beech Ridge doesn't know how to drive – there are a lot of guys there that are really good, are great racers and can win every week – but on the PASS tour, I think more guys race you clean. They'll race you hard, but there's not as much beating and banging for no reason.
"At Beech Ridge, for whatever reason, people just seem to want to bang each other out of the way instead of racing each other. I don't want to spend every week putting the car together every week, nor do I have the time to do it. If we can have a week between races, we'll be more prepared. If we're not ready to get the car to a race, that's OK, too. It's time to relax and have some fun with racing now."
On whether longer races better suit his driving style: "I don't really know that one fits my driving style better than the other. You just have to learn how to adapt to them. I think I've run enough of both kinds of races now to know what it takes. In these (PASS) races, it's just a lot more about saving your stuff for the end."
On how much this weekend can serve as a tune-up for the TD Bank Oxford 250: "It'll be a lot closer than it was than the last time we were here. I expect the track – depending on the weather this weekend – will be a little closer to what we'll see next month. It will be a little bit greasier, but if we get a cool day on that particular weekend, it'll be more like what we had in April.
"You can't really know for sure until you know what the weather is going to do, but anytime you can run a race under conditions that are the same, it's only going to help."
UP NEXT
The PASS North Series returns to Canaan Fair Speedway in Canaan, N.H., for the PASS 150 on Saturday, June 29.