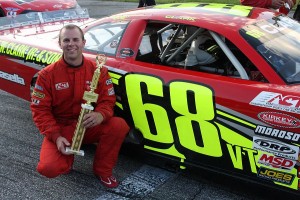 Williams, Streeter Take Feature Wins
Fayston, VT's Brooks Clark stole the show on the WLVB twilight event at Barre's Thunder Road on Sunday, June 9, holding off 7-time American Canadian Tour Champion Jean-Paul Cyr to claim the early-season Late Model victory.

Barre's own Lance Allen led the early going of the 50-lap feature, battling 50-year racing veteran Joey Laquerre for the top spot. Allen took the lead for a handful of circuits before Clark powered by him in the outside lane. Clark looked to be in complete control of the race until a surge from 2009 King of the Road Cyr brought the battle to Clark's back bumper for the feature win. Clark held on to the high lane where both cars preferred to be, and held off a late attack from Cyr to hang on to the win. Allen posted his first career podium finish in the Late Model division in third, followed by 2-time King of the Road Dave Pembroke, and Laquerre. 31 cars attempted to qualify for the 26 car starting grid.
"I didn't know if going high was a great idea with someone as good as Cyr coming, but it really worked out," said Clark, elated in victory lane. "This is awesome. I couldn't have asked for anything more," he finished.
Cyr was also happy with the outcome.
"This is a great way to start the year off. I wanted to make Brooks a little nervous by getting on his tail, so I saved it all for a last ditch effort. I just didn't have enough," said Cyr.
Youngster Cody Blake continued his hot start to 2013 with a sixth place finish, followed by Milton's Scott Payea. Mike "Beetle" Bailey, Defending Champion Nick Sweet, and Memorial Day winner Derrick O'Donnell completed the top ten.
Hyde Park, VT's Tucker Williams took his familiar red and black Bond Auto Tiger Sportsman to victory lane on Sunday afternoon, besting veterans Mike Ziter and David Finck for the fifth win of his young career.
Williams stayed ahead of what was a wild feature event, seeing point leader Shawn Fleury and veteran Matt Potter raise tempers after an on track altercation inside the top ten with just 7-laps to go. Fleury recovered to finish 15th, Potter did not return. Veteran Jason Allen and Mike Martin survived the fray to finished fourth and fifth respectively.
"It's awesome to come out and win early in the season like this," said Williams in victory lane. "The car was great. I am so grateful to my team and my sponsors," he finished.
The Allen Lumber Street Stocks saw Waitsfield, VT native Kyle Streeter pick up his second career victory, holding off Hardwick, VT's Bunker Hodgdon and defending Champion Nick Pilotte.
Streeter powered to the lead on the fifth circuit of the 25-lap event, followed closely by veterans Alan Maynard and Troy Kingsbury. By lap 10, 2011 Street Stock Champion Greg Adams arrived in the top five but two laps later was involved in a spin with Kingsbury which sent him to the tail of the field. Adams made a remarkable recovery to finish fourth, and Maynard rounded out the top five.
The New England Antique Racers were on hand with two special events for their Sportsman and Modified classes. Gerry Blanchette took the victory with his Modified in the annual Cho Lee Memorial Race, which is run in honor of late racing historian Cho Lee. Brian "Spanky" Bancroft took the victory in the Sportsman class.
Thunder Road will be back in action next Sunday, June 16 for Kids night presented by Harvest Equipment. Kids 12 and under will get free admission, as well as a free hot dog, from the new MGL Concession Stands. Race car rides around the track will also be offered to children starting at 1:15pm. Post time is 4pm.
WLVB Twilight Event
Sunday, June 9, 2013
Thunder Road International Speedbowl
Late Model Unofficial Results
Pos. Driver (Car #) Hometown
1. Brooks Clark (68VT) Fayston,VT
2. Jean-Paul Cyr (32VT) Milton,VT
3. Lance Allen (17VT) Barre,VT
4. Dave Pembroke (44VT) Middlesex,VT
5. Joey Laquerre (15VT) E.Montpelier,VT
6. Cody Blake (99VT) Barre,VT
7. Scott Payea (89VT) Milton,VT
8. Mike Bailey (00VT) SouthBarre,VT
9. Nick Sweet (88VT) Barre,VT
10. #Derrick O'Donnell (60VT) N.Haverhill,NH
11. Trampas Demers (85VT) S.Burlington,VT
12. Matthew White (42VT) Northfield,VT
13. Chip Grenier (9VT) Graniteville,VT
14. David Whitcomb (25VT) EssexJct.,VT
15. Rick Roberts (3VT) E.Barre,VT
16. Emily Packard (9ME) E.Montpelier,VT
17. Joey Becker (16VT) Jeffersonville,VT
18. #Jason Corliss (66VT) Barre,VT
19. Scott Dragon (40VT)
20. #Joey M. Laquerre (51VT) E.Montpelier,VT
21. Jamie Fisher (18VT) Shelburne,VT
22. Brett Wheeler (1VT) Waterbury,VT
23. Brett Gervais (11NH) IslandPond,VT
24. Jim Morris (13VT) Barre,VT
25. #Terry Reil (11VT) E.Barre,VT
26. Phil Scott (14VT) Middlesex,VT
Bond Auto Tiger Sportsman Unofficial Results
Pos. Driver (Car #) Hometown
1. Tucker Williams (11) Hyde Park, VT
2. Mike Ziter (26) Williamstown, VT
3. David Finck (37) Barre, VT
4. Jason Allen (29) Barre, VT
5. Mike Martin (01) Craftsbury Common, VT
6. Josh Demers (10) Montpelier, VT
7. Eric Badore (04) Milton, VT
8. John Lambert (2) Northfield, VT
9. Jason Woodard (68) Waterbury Ctr., VT
10. Adam Pierson (85) Bradford,VT
11. Christopher Pelkey (64) South Barre, VT
12. Mike Billado (8) Essex, VT
13. Scott Coburn (1) Barre, VT
14. Chris Roberts (9) Washington, VT
15. Shawn Fleury (31) Middlesex, VT
16. Brendan Moodie (94) Wolcott, VT
17. Cameron Ouellette (90) Barre, VT
18. Darrell Morin (71) Essex Jct., VT
19. Jeffrey Bousquet (60) Worcester, VT
20. Mike Rollins (91) Williamstown, VT
21. Justin Gibbs (30) Waterbury, VT
22. Matthew Potter (23) Marshfield, VT
23. Randy Gonyaw (22) S. Barre, VT
24. Doug Crowningshield (14) Barre, VT
25. Joe Steffen (00) Grand Isle, VT
26. Clem Despault (3) Waterbury, VT
Allen Lumber Street Stock Unofficial Results
Pos. Driver (Car #) Hometown
1. Kyle Streeter (37) Waitsfield, VT
2. Bunker Hodgdon (83) Wolcott, VT
3. Nick Pilotte (11) Jefferson, NH
4. Greg Adams (38) Hardwick, VT
5. Alan Maynard (10) Fairfax, VT
6. Jamie Davis (43) Wolcott, VT
7. Dean Switser, Jr. (16) Lyndonville, VT
8. Tommy Smith (50) Williamstown, VT
9. Donnie Yates (05) N. Montpelier, VT
10. Tyler Austin (5) E. Calais, VT
11. Joscelyn Fecteau (75) Hardwick, VT
12. Troy Kingsbury (39) Waitsfield, VT
13. Scott Maynard (59) Burlington, VT
14. Patrick Tibbetts (48) Barre, VT
15. George Butler (9) Randolph, VT
16. Paul Grant (46) East Calais, VT
17. Marcel Gravel (86) Morrisville, VT
18. Marvin Johnson (19) Essex Jct., VT
19. Tommy Elwood (88) Morrisville, VT