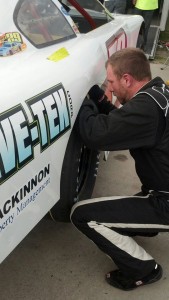 Oxford Championship Series: Trevor Sanborn
Oxford Plains Speedway Race Report

OXFORD, Maine – Trevor Sanborn of Parsonsfield, Maine, finished fifth in the 40-lap Pro Late Model feature at Oxford Plains Speedway in Oxford, Maine, on Friday, June 14. Sanborn, who typically serves as the crew chief on the Stilphen Racing No. 70 Pave-Tek Chevrolet, made his debut behind the wheel in the car. After starting 14th in a deep 18-car field, Sanborn worked all the way to the Top-5 with the benefit of just one early caution period to slow the race pace. In five starts this season, the No. 70 Pave-Tek Chevrolet now has three Top-5 finishes, including a win for 14-year-old rookie Tommy Stilphen in May.

WHO: Trevor Sanborn, Parsonsfield, Maine
TEAM: Stilphen Racing No. 70 Pave-Tek Chevrolet
WHAT: Oxford Championship Series Pro Late Model 40
WHERE: Oxford Plains Speedway, Oxford, Maine (.375-mile oval)
STARTED: 14th
FINISHED: 5th
NEXT RACE: June 21, OCS Pro Late Model 40, Oxford Plains Speedway, Oxford, Maine (.375-mile oval)
********
TREVOR, HOW DID IT FEEL TO BE IN THE CAR FOR THE FIRST TIME?
It felt comfortable. Everything was good. I expected to go pretty good, because (Tommy Stilphen) went pretty good when he's been in it. I have more of a feeling for these cars than he does, just because I've raced so much. But now we're going to take the shocks off and have some adjustments to go with for next week.
Hopefully, it helps and we don't go backwards. But I don't think we will.
WERE YOU HAPPY TO COME OUT OF IT WITH A TOP-5?
Yeah, I'm happy with that. Definitely.
I don't think I had anything for the leader, but I probably could have gotten one or two of those guys if I pushed it. Maybe with a caution – a short break to cool the tires down – I might have been able to get up there. Other than that, we were a fifth-place car.
DID THE CAR'S HANDLING CHANGE?
It got tight. I don't run bleeders, so the tire pressure built up a lot. That's my own stupidity. Next week, we'll be putting bleeders in it.