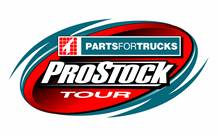 (Halifax, NS, June 30, 2013) – Dylan Gosbee (Cornwall, PE) crossed the line first on Sunday at Petty Raceway to collect his first career Parts for Trucks Pro Stock Tour win in the Lucas Oil 150. Gosbee started his #91 Wendell Taylor's Garage Chevrolet on the second row on the final restart with three laps to go and made the winning pass on the final lap, leading the last few feet and finishing ahead of Shawn Tucker (Fredericton, NB) by 0.144 seconds. Tucker, who led 57 laps in the Lucas Oil 150, had to settle for second ahead of Charlottetown, PE's Darren MacKinnon. Greg Proude (Springvale, PE) came home in the fourth place spot while Jerome Kehoe (Sydney, NS) rallied from an early caution to finish fifth.

Jonathan Hicken (Brudenell, PE) found himself with the title of fastest car after taking the top spot in the Atlantic Tiltload Time Trials to get us started for the day with a lap time of 13.705 seconds. After a shakeup of the top eight drivers and a ten lap race, John Flemming (Halifax, NS) became the King Freight Lines Dash for Cash winner. Craig Slaunwhite (Terence Bay, NS) and Gosbee each took home a Dartmouth Dodge Heat Race victory. Flemming took home the Linde Most Laps Led award after crossing the line first 58 times. Denver Foran (Edmonton, AB) backed up his 9th place finish with the Rookie of the Race Award. Gosbee's charge to the front gained him 9 positions and the Absolute Traffic Hard Charger Award. Flemming, who finished eighth on the evening, will retain the point lead after four events.
The next event for the Parts for Trucks Pro Stock Tour is the Irving Blending & Packaging 100 on Saturday, July 6th at Speedway 660 at 7:00PM.