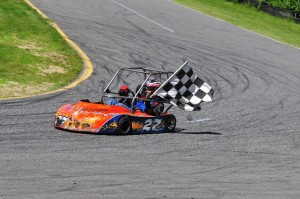 story by Chris Roy
12 year old Carter Patterson of Belfast, ME is the current point's leader in the Sr. Sportsman Series at Richmond Karting Speedway. With 5 wins already this season Carter has a firm points lead but fellow driver Joshua Annis, in the 1x isn't far behind. After every win Carter takes the checkered flag and does a "Polish Victory Lap", made famous by NASCAR driver Alan Kulwicki. I asked Carter why he like to do his victory lap in the opposite direction he replied, "Because it's cool!!"
RPM. – Other than racing what are your plans this summer?
Carter – I plan to work and earn money for racing and other fun activities, work out, and play sports with my friends.

RPM. – Q. How did you get started in racing?
Carter – I grew up as a Jeff Gordon fan and watching my dad race. When i was 5yrs. old I asked my dad if I could race. The first time I raced i was 6 yrs. old at thundering valley raceway where I won a championship before coming to Richmond 2 yrs. Ago.
RPM. – Which do you like better racing during the day or under the light?
Carter – I like racing under the lights better because the karts seem faster, and it's really fun to be at the racetrack at night.
RPM. – What's the key to getting around the track at RKS?
Carter – The key to getting around Richmond is having a great pit crew, a great kart, and hitting the perfect line around the track.
RPM. – Halfway through the season and you are currently leading the points.
Carter – It feels great to be halfway through the season and have the point lead, but i know the competition will be tough the rest of the year so i feel like i need to bring my "A" game every week.
RPM. – What's the next step after Kart racing?
Carter – I would like to run a legend car or a star speedway mod soon. I think either of these cars would be a good next level.
RPM. – Do you work on the race car as well as drive it?
Carter – I work on the car as much as i can. I help with scaling the kart, changing tires, and fixing any damage I might have.